HOME/INTRO • HISTORY • DEMOLITION • RECONSTRUCTION • EPILOGUE
Disclaimer: This is an unofficial site. It is not affiliated with or endorsed by CDOT, RTD, or the T-REX Project.
---
T-REX: Killer reptile, Steven Spielberg movie cast member, Denver transportation project. It's that last item I focus on here. T-REX is the TRansportation EXpansion project, a combination highway/transit project along Denver's I-25 Southeast Corridor.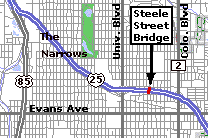 After studies through the mid-1990s, the Colorado Department of Transportation and the Regional Transportation District determined that I-25 from Broadway in central Denver southeast to the Douglas County line required major upgrading. The two agencies, with cooperation almost unheard of, managed to secure state and federal funding, environmental clearances, public support, and a design/build contractor within the course of three years. In May 2001, the design/build team of Southeast Corridor Constructors, headed by Kiewit Construction and Parsons Transportation Group, was selected to carry out the project. Ground breaking was held September 24, 2001.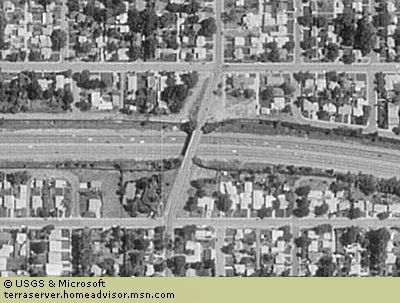 I-25 would be widened from three to four lanes each direction from Broadway to I-225, and widened from three to five lanes each direction from I-225 to C-470. Major drainage upgrades and interchange enhancements would also occur. A dual-track light rail line and 11 stations would be constructed along I-25's west side from Broadway to Lincoln Avenue. I-225 would be widened from two to three lanes each direction from I-25 to Parker Road, and a dual-track light rail line and two stations would be constructed down the median. Project cost: $1.6 billion. Timeline: Start in 2001, finish in 2006.
To make way for the highway expansion and new light rail line, numerous bridges would have to be demolished and rebuilt. One of the bridges is the Steele Street bridge. The structure carries Steele Street, a north-south collector street, over I-25 where the freeway knifes through the Merrill neighborhood of south central Denver. The bridge connects the two sides of the neighborhood, and provides easy access from the south side of the freeway to an elementary/middle school campus just one block north of the bridge. The bridge is at the south end of the portion of I-25 known as the Narrows. The Narrows is a very problematic portion of I-25, due to it being depressed below grade in a trench. The freeway regularly floods in intense summer thunderstorms, and the depressed nature of the freeway requires numerous overpasses.
SECC's schedule set Steele Street to be the second of 10 bridges demolished and reconstructed on the I-25 corridor. Demolition would take place in early February 2002 and the bridge would be reconstructed and opened by August 2002.
---
Steele Street Bridge Quick Timeline
1950: First section of Valley Highway opens, in north Denver. Includes the interchange at 46th Avenue, later known as the Mousetrap.
1953: Steele Street bridge built.
November 23, 1958: Valley Highway open in its entirety from 58th Avenue to Evans Avenue.
January 7, 2002: Steele Street bridge closed to vehicle traffic. Sidewalk on west side kept open for pedestrians.
February 2, 2002: Temporary pedestrian overpass opened adjacent to Steele Street bridge.
February 3, 4 & 5, 2002: Steele Street bridge demolished during overnight hours with total closure of I-25.
May 14, 2002: Girders for new bridge set with overnight total closure of I-25.
June 19, 2002: Concrete for new deck poured.
August 6, 2002: New bridge opened to pedestrian traffic and temporary pedestrian bridge removed.
August 19, 2002: Reconstructed Steele Street bridge opens.
---
Steel Street Bridge Glossary
Abutment (uh BUT ment): The part of a bridge at either end where it interfaces with the ground, usually on which ends of the girders sit.
Caisson (KAY son): A circular shaft drilled into the ground and filled with concrete. Used to support a structure above it, either a bridge column, pier or abutment.
Pier: Supporting vertical member of a bridge that is in the inner portion of the structure, between the two abutments. Usually a single pier is made up of one or more individual columns.
SECC: Southeast Corridor Constructors, the design-build contractor for the T-REX project.
Span: Unsupported section of a bridge in between the vertical supports. The Steel Street bridge happens to be two spans, because it has the two abutments at either end and one pier in the I-25 median.
---
Related Sites
---
Steele Street Bridge:
HOME/INTRO • HISTORY • DEMOLITION • RECONSTRUCTION • EPILOGUE

Continue:
Page created 19 April 2002
Last updated 26 November 2006