Denver "Roadgeek" Get-Together 10-23-04
On Saturday, October 23, 2004, a get-together of regular contributors to the Colorado Highways site and/or Colorado regulars on the newsgroup misc.transport.road was held. The inspiration to hold the meeting came from similar meetings held in other parts of the country. We met at Maggiano's Little Italy in Centennial, where we ordered lunch and chatted. We then headed out for a tour of the T-REX project on I-25 and I-225. Thanks to Kevin Flynn for coordinating with T-REX spokesman Karen Morales to give us the tour, and her supplying the T-REX van to haul us around. We also stopped by the T-REX project office for a quick look around there.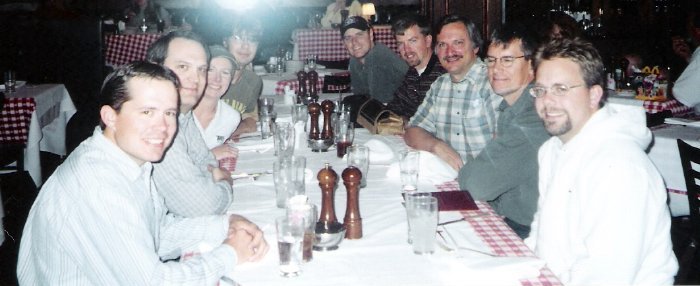 Attendees: Left (F-B): Ben Kiene, Matt Salek, Karen Morales, Drew Willsey
Right (F-B): Shawn McDowell, Bob Shedd, Kevin Flynn, Dale Sanderson, Duncan Shaw. Photo courtesy Kevin Flynn.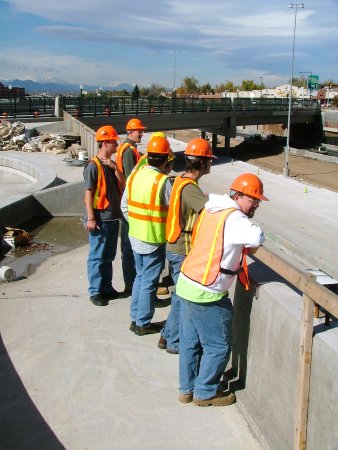 Overlooking the new concrete on I-25's west side, between Washington St and Louisiana Ave. Photo by Dale Sanderson.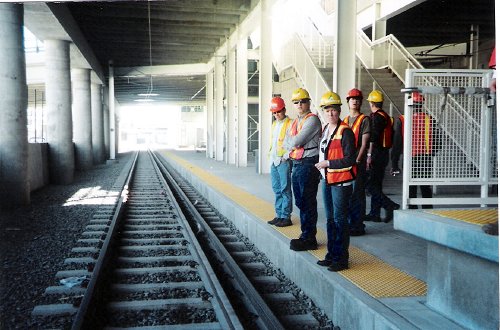 Down along the light rail tracks at the Louisiana station. These are the northbound tracks, the southbound tracks are off to the right side. To the left of the columns is southbound I-25. Photo by Kevin Flynn.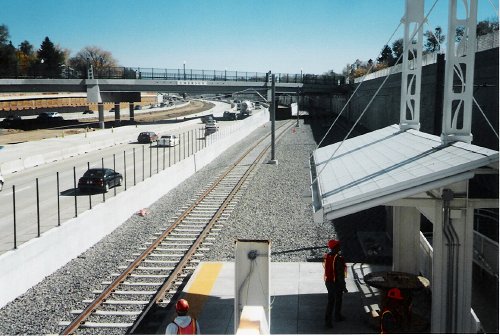 Overlooking the south side of the Louisiana station from the stairway leading down to it. Ahead is the Emerson St bridge. Photo by Kevin Flynn.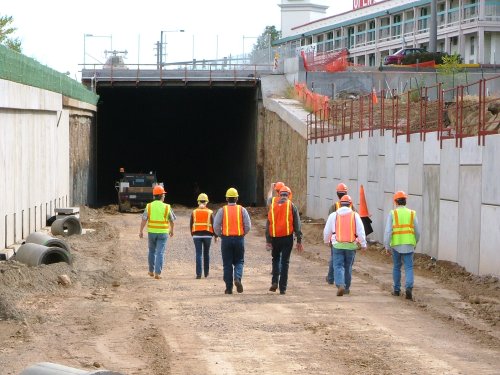 Walking into the belly of the beast ... er, I mean the light rail tunnel under Colorado Blvd. The tunnel takes the light rail under Colorado Blvd and Colorado Center Dr at an angle, making it a very long tunnel. Photo by Dale Sanderson.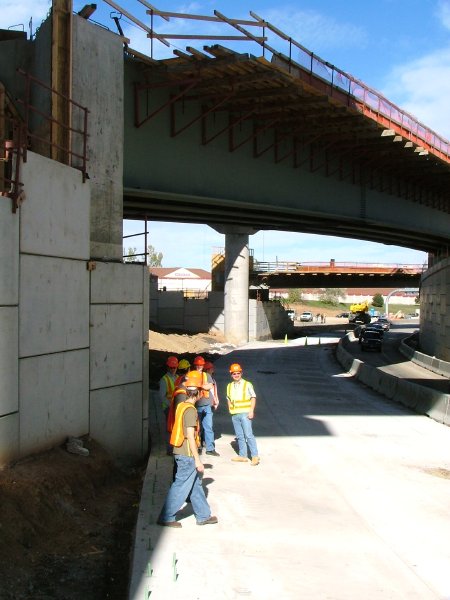 Looking north along the SB I-225 to SB I-25 ramp in the Full House interchange. Above is a bridge for the tangle of light rail lines snaking through the interchange. Photo by Dale Sanderson.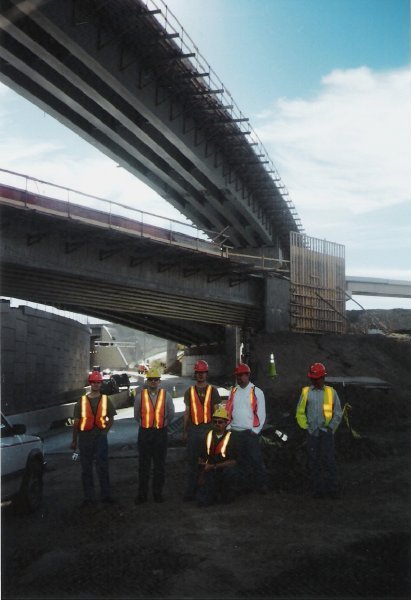 Another shot in the Full House. Looking south along the SB I-225 to SB I-25 ramp, with three light rail bridges soaring overhead. Photo by Kevin Flynn.

Past Colorado Meets

Continue:
Page created 13 November 2004