THE FREEWAY EXITS OF COLORADO

From no-name diamonds to four-level stacks, rugged mountains to flat prairie, bustling cities to sleepy grain elevator rail sidings: The freeways of Colorado allow one to admire the extremes and diversity of the state and our nation.


Northbound I-25 north of Denver.
---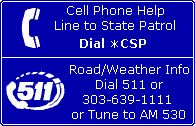 About This Site
Welcome! This site allows you to scroll up and down and view various things pertaining to freeways in Colorado, including exits, rest areas, hazards, etc. The format for this site is explained on the About Page of my Upper Midwest exit guides site. For more on the highways of Colorado, visit my Colorado Highways site.

For current road and weather conditions, call 511 or visit CoTrip.org.

Disclaimer
There is no way these can be 100% accurate. A variety of sources are used, so hopefully the info is pretty close to being right. If you find something wrong, e-mail me. This site is not affiliated with any official agency.
---
---
Related Sites

Continue:
Last updated 17 August 2008