The Bonus Page
Just a few odds-n-ends here that I didn't have anywhere else to put.
2003 Blizzard • 2001 Urban Flooding • Jump River Bridge
---
2003 Front Range Blizzard
What happens when 30" of snow falls in two days in Denver? Not much, because everyone is stuck in their homes. This was the great Saint Patrick's Day Blizzard of 2003, which dumped anywhere from 1 to 8 feet of snow along the Front Range urban corridor and foothills. At my location in southeast Denver it started snowing late Monday (March 17) and finally stopped Wednesday afternoon (March 19), although some locations it continued snowing through Thursday.
Not only was it a lot of snow, but it was wet, heavy spring snow that caused dozens of building collapses and shut down I-70 until Friday (March 21) so CDOT could dynamite away the avalanche danger. I was fortunate enough to be at an out-of-office meeting Tuesday morning and made it home about 2 p.m. after deciding to go home because the street back to the office was impassable. Two very boring days followed, with me finally being able to dig out my car Thursday morning (March 20) and making it into work about lunchtime. Because metro Denver's snow removal fleet is mostly solar powered, I -- and probably a quarter million other people -- would have been snowed in for a long time had it not warmed up to 55 degrees in the days after the storm.
I took these pictures Wednesday afternoon (March 19).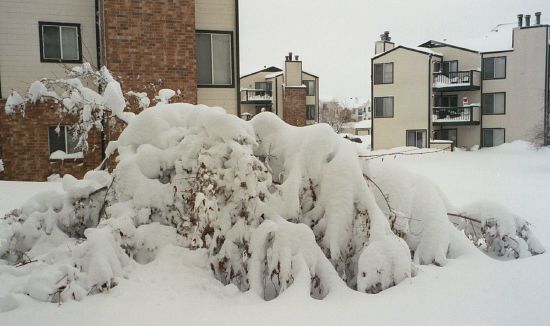 A poor tree outside my living room window that got crushed due to the weight of the snow.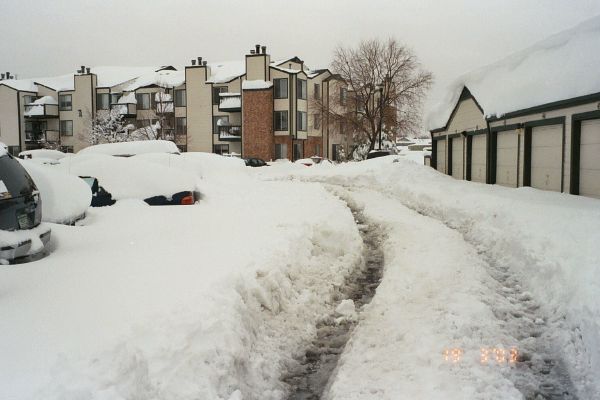 The scene out in the parking lot. The third car from the left that you can barely see the taillights of is mine.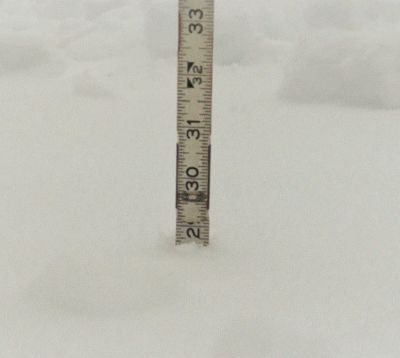 Stick a ruler in the snow it reads 28 3/4".
---
Urban Flooding
An intense rainstorm swept through the southern, central, and eastern portion of metro Denver on Sunday, July 8, 2001. Since it was conveniently happening during the local news hour, stations sent out roving teams to show us pictures of flooding and weather casters warned us how bad this one was. I-25 was closed through the Narrows as "Lake Logan" began to form at the Logan Street underpass, and other urban and small creek flooding occurred.
At my apartment complex, it started raining heavily about 5:15 p.m. Since the first stage of my complex's detention pond system is right outside my patio door, I was gradually getting more and more nervous as I watched the water level rise in it ever closer to my unit. Finally the rain stopped about 6 p.m. and I decided to go out and see what had happened. Following the water, I discovered the rainfall had overwhelmed all four stages of the complex's detention pond system and was eventually running onto an adjacent business park. I'm not familiar with what Arapahoe County has for its detention pond policies, but I would bet that would make it a 50- or 100-year storm event.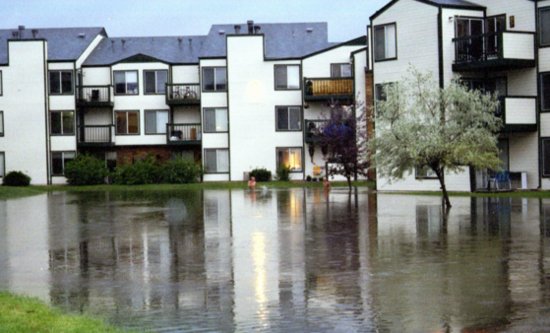 The scene right outside my patio door. This depressed area between buildings is the first stage of the complex's detention system. Two guys decided to go wading.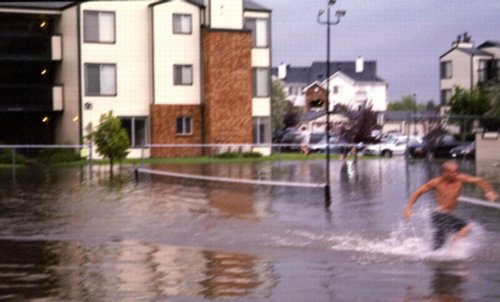 Once the first stage fills, the water overtops a weir structure into the second stage, which is these depressed tennis courts.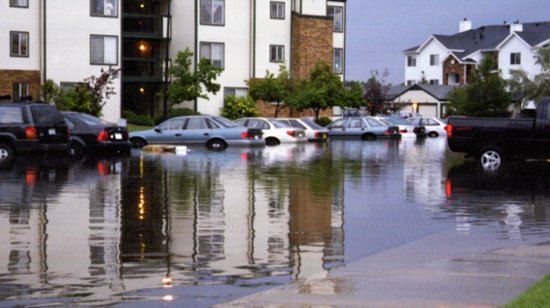 When the tennis courts fill up, water starts ponding in the third stage, which happens to be a parking lot. This is a few buildings down from me, so I wasn't parked there.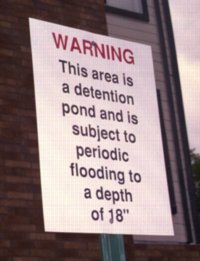 Can't say they weren't warned, though.
Once water filled up the parking lot, it began flowing to the fourth stage detention pond, a very small depression at the corner of the property. It would have filled very quickly, and then it began flowing down a slope to a parking lot of an adjacent business park. There it went into their storm sewer system and on to Cherry Creek. Despite all the flooding in the detention pond system, none of the buildings got wet. If you look at the pictures above, you'll notice you can still see grass between the water level and the buildings. That's how these systems are designed, of course.
---
Jump River Bridge
My grandmother sent me these two pictures of a bridge near their house. It's on Wisconsin State Road 73, just east of the unincorporated town of Jump River in Taylor County. She says she really likes that bridge, and sent them to me because she knew I was going to be an engineer. They sure don't build bridges like this anymore. Nowadays, they're all boring concrete causeway structures.

Looking at it from the wayside next to it.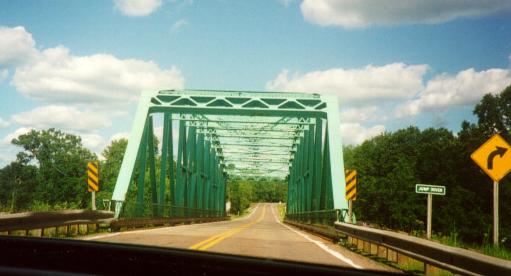 Going east (southbound).

Continue:
Last updated 5 December 2004